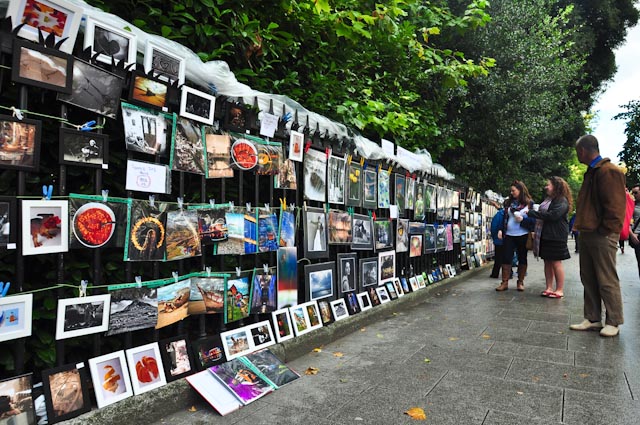 What is the Peoples Photography Exhibition ?
The location for this annual event is the railings of St. Stephen's Green   (courtesy of the Office of Public Works).
The People's Photography Exhibition is a unique opportunity to enjoy a showcase of striking images in a relaxed atmosphere in the heart of Dublin city. This Summer's event features a diverse selection of work from enthusiasts, clubs and international award winning professionals. Themes on display include landscape, monochrome, photojournalism, portraiture, creative, nature, analogue, digital and abstract photography. The originality and creativeness of the many imaginative displays will be greatly appreciated not only by those looking for a fun day out with a great atmosphere in the city but also by anyone who has a keen eye for all things arty. This exhibition is the ideal option to do something different at the weekend and what's even better, it benefits good causes.

Good cause
The exhibition, held over a weekend in late August for the last 30 years, is  a significant national affair and has become the largest outdoor photographic exhibition in Ireland in terms of both the number of photographers involved and the number of works on view. The event is run on a non-profit making basis. After expenses are paid, donations are made to charity. Past donations have been made to the Dublin Simon Community and the National Council for the Blind of Ireland.
Combined totals of more than €12,000 has been donated to each organisation from the proceeds of the exhibition over the last number of years
You can view the many thank you letters received from Simon and NCBI here